The Mayer press fit pipe system offers a complete range of products manufactured from inert 316L stainless steel with diameters ranging from 15–108mm. An extensive inventory of joints and connecting O-rings ensures tailoring the system to meet exact requirements for each job site. Every Mayer product, no matter how large or small, is manufactured to exacting standards. When Mayer stainless steel pipes arrive on site, they are quality certified, dependable and ready for installation. The longevity of stainless steel is unmatched; once deployed, Mayer is there for the life of the building. Installation is rapid, with no heat or solvents, and a Leak Path providing a tell-tale method of identifying which joints are completed.
Mayer stainless steel pipes and fittings start with the selection of the finest raw materials. Each pipe and fitting is manufactured in an ultra-modern facility where attention to detail guarantees the quality of every item which leaves the factory. Extensive individual testing of each pipe or fitting, including rigorous hydraulic pressure testing, eddy current testing, and annealing of all pipe and fittings to ensure optimal quality standards are consistently met. Mayer has earned an enviable reputation and is the product of choice for installers due to its high quality, durability and cost-competitiveness.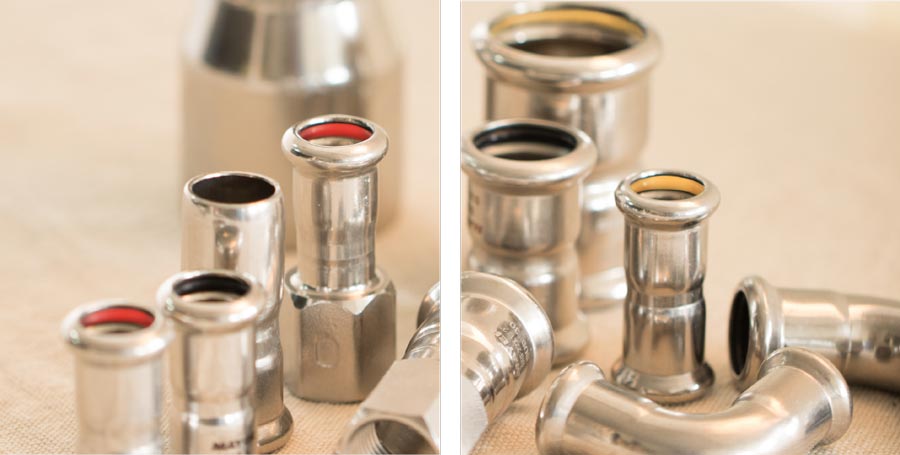 Fast & Easy to Use
Installing Mayer stainless steel pipe systems delivers advantages over traditional brazed copper or bonded PVC systems. Mayer is press fitted with rubber O-rings. That means water doesn't have to be fully drained prior to making joints, unlike welded systems. Time isn't spent waiting for adhesive bonds to set. And there is no heat or flame, which means no hot-works permit. As a result, installing Mayer is faster, easier, cleaner and safer.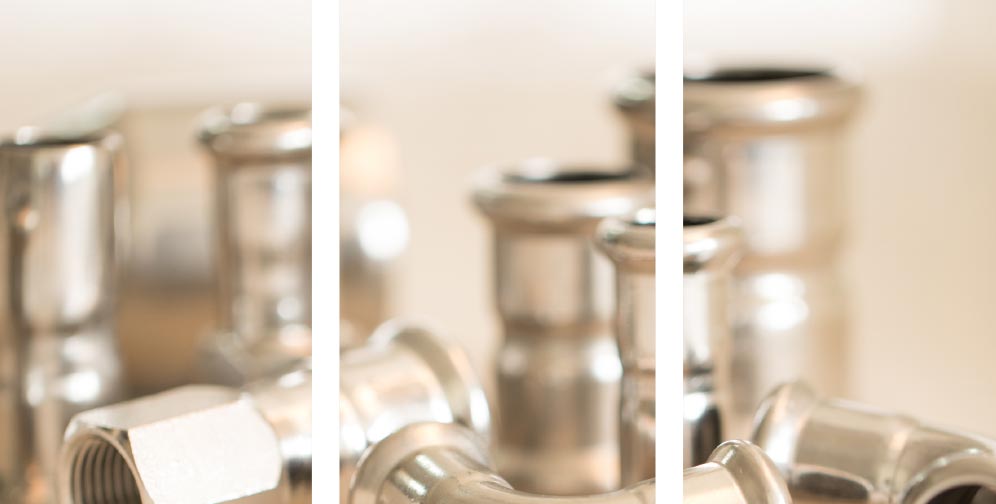 Push & Stay & Leak Path
Fitting Mayer stainless steel pipe systems is rapid and simple. Start with hand-fitted joints, which are sufficiently tight to complete the rough-in. With this approach, adjustments can be made to get the right pipe design and placement. Finally, complete each joint by pressing. All joints which are not yet pressed will leak (Leak Path), allowing for easy identification of those which are completed and those which are not.
High Quality 316L Stainless Steel Tube
Each Mayer pipe and fitting is precision-manufactured from certified 316L stainless steel. Pipe features include:
Low carbon (<0.03%) with between 2-3% Molybdenum content ensures even higher corrosion resistance
Sizes 15–108mm
AS 5200.053 compliant
Stainless steel press fittings features include:
316L material EN 1.4404 (press fittings)
316Ti material EN 1.4571 (threaded parts)
316 material EN 1.4408 (precision cast parts)
Press with Ease with Mayer Tooling
Gearing up to supply and install Mayer stainless steel pipe systems is easy. If you have previously pressed copper, in many cases an upgrade of jaws will be all that will be required, check your tool's compatibility with your local distributor.
Mayer tools feature:
Ergonomic, lightweight design
Tools well balanced with one hand operation in most sizes
Includes powerful Li-ion batteries