Quality is at the heart of Mayer stainless steel pipe systems. From raw materials, to sheet stainless steel and finally to the manufacture of individual pipes and fittings, every process and procedure is rigorously aligned with industry standards and best practices. No items leave the Mayer factory until they have passed stringent Quality Assurance tests. Mayer stainless steel products are certified suitable for potable water, reverse osmosis water, process water, glycol, HVAC applications of chilled and heating water, and more. Our end-to-end quality standards mean when Mayer stainless steel arrives on site, it can be depended upon.
Every time.
Mayer Stainless Steel pipes are compliant with AS 5200.053 and supplied as straight 5.8 metre lengths with outside diameters in the range 15mm to 108mm.
All 316L pipes are constructed of Austenitic Stainless EN 1.4404, complying with DIN EN 10088, fabricated according to DIN EN 10312 and DVG-W543 which conforms to standard EN 10088 (AISI 316L) fabricated according to EN 10312 and WRAS. Mayer Stainless fittings are manufactured to the highest of standards.
Marking
All Mayer pipes and press fittings are stamped in accordance with relevant standards to indicate the relevant application.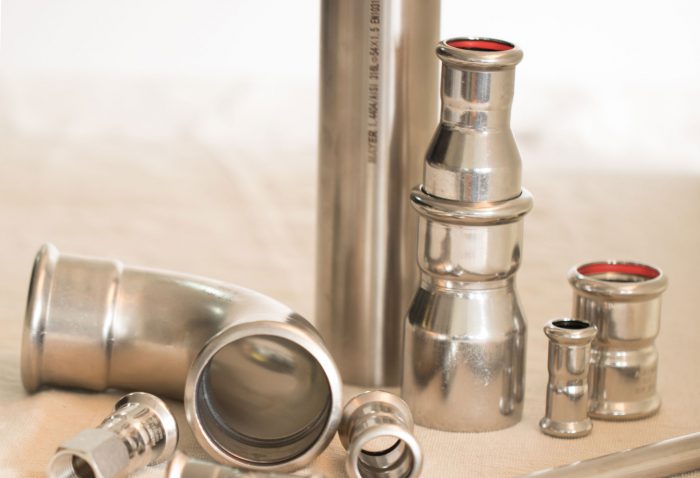 MAYER STAINLESS STEEL PIPES AND FITTINGS ARE PRODUCED WITH TOP-GRADE RAW MATERIALS FROM BRANDED SUPPLIERS. EACH PIPE OR FITTING MUST ACHIEVE A 100% PASS OF HYDRAULIC PRESSURE AND AIRPROOF TESTS BEFORE LEAVING THE FACTORY TO ENSURE EXCELLENT QUALITY.